Happy Canada Day! Only 3 Group Classes today: 7:00AM – 11:00AM – 5:30PM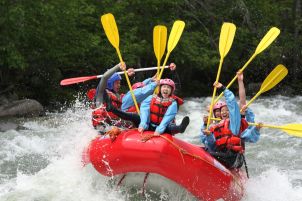 Last Call for White Water Rafting Trip! We are less than 2 weeks out from the White Water Rafting trip to REO Resort on the Nahatlatch River. Talk to Tom or Errol to get signed up. Check out REO website for more info. To sign up and pay, please use this link.

Don't forget, next Saturday from 10AM to Noon, one of our own resident Naturopathic Medical Students, Shannon Morgenstern, will be doing a presentation on the importance of health and wellness outside the gym. Everything from diet and mood to environmental toxins and sleep hygiene will be discussed with lots of time for questions and answers included. Shannon will also be providing a brief overview of what Naturopathic Medicine is and how it could be a great option for your health and well being. Bring your questions!!!
Today's Workout
WarmUp
5 burpees => 2 cartwheels => 2 Broad jump => 1 muscle up or progression => agility ladder => 100-meter sprint => 100-meter jog
Strength
Five or Six sets of:
Shoulder Press
Rest 3 minutes between sets
(use this time effectively to work on hip mobility or glute activation exercises – your coaches can help give you some suggestions)
For the shoulder press, perform the following reps and percentages:
* Set 1 – 50% of possible 1-RM x 3 reps
* Set 2 – 75% of possible 1-RM x 2 reps
* Set 3 – 85% of possible 1-RM x 1 rep
* Set 4 – 90-95% of possible 1-RM x 1 rep
* Set 5 – Test 1-RM
* Set 6 (optional) – Exceed Set 5 weight
WOD
"Lucky Sevens" – Part Two
Complete as many rounds and reps as possible in 7 minutes of:
7 Box Jumps (24″/20″)
7 Burpees
7 Kettlebell Swings (24/16 kg)